DETEKSI JARAK PANDANG AMAN SEBAGAI ACUAN UNTUK KESELAMATAN PENERBANGAN DENGAN MENGGUNAKAN METODE BACKPROPAGATION
Keywords:
Flight Safety, Delay, Bacpropagation
Abstract
Delay is a term used when the flight schedule late while depart or arrive. Delay causes due to bad weather, technical problems on the plane, uncompleted crew, and others. Delay is procedure to avoid unexpected condition for example is accidents. Bad weather is the the one of delay reason difficult to estimated or detected because relativity variable of each hour. Bad weather can be detected by the air visibility. According to the official standart of transportation the minimum distance of visibility is 5 kilometers. While distance less than for flight safety, can be categorized as danger. Therefore, the porpose of this research is to know early when the flight has to be delayed or not. Therefore to detect a weather condition can be use backpropagation method which can be identified through several factors such as wind speed, humidity, and temperature in the air. Based on this research using 720 data, obtained a high accuracy of 95.71%, recall of 97.81%, and precision of 94.98%. With learning rate of 0.1 and hidden layer as much as 100, which shows that the detection of visibility has a very good performance. Therefore the model can be used for the detection of the visibility of the safe.
Downloads
Download data is not yet available.
References
[1] Fauset, laurent. 1994. Fundamental of Neural Network. prentice-hall international.

[2] Peraturan Menteri Perhubungan. 2015. Penanganan Delay Pada Badan Usaha Angkutan Udara. jakarta: Peraturan Mentri Perhubungan Republik Indonesia no PM 89 Tahun 2015. Accessed 03 08, 2018. https://travel.kompas.com/read/2016/08/09/100000427/tak.selamanya.pesawat.delay.adalah.kesalahan.maskapai.. 2010. Peraturan Keselamatan Penerbangan Sipil. jakarta: Peraturan Mentri Perhubungan Nomor KM 18 Tahun 2010. Accessed 03 08, 2018. http://www.kalimantanpost.com/jarak-pandang-masih-aman-untuk-penerbangan/.

[3] Sarjani, Eko Tri Rahardjo, and Umi Budiastuti. 2011. Cuaca dan Iklim. jakarta: Gramedia.

[4] Sholikhin, Mochamad Nur, and Dra. Yuniarsi Rahayu. 2013. "Analisis Delay Penerbangan Akibat Cuaca di Bandara Ahmad Yani Semarang dengan Algoritma C4.5." 1-10.

[5] Tempo.co. 22/5/2016. Tempo.co. mei 22. https://tekno.tempo.co/read/773024/ini-5-penyebab-utama-kecelakaan-pesawat.

[6] Wardani, Ni Wayan, Gede Rasben Dantes, and Gede Indrawan. 2018. "PREDIKSI CUSTOMER CHURN DENGANPrediksi Costemer Churn dengan Algoritma Decision Tree C4.5 Berdasarkan Segmentasi Pelanggan Pada Perusahaan Retail." JURNAL RESISTOR 16-24.

[7] Widyaningrum, Vivi. 2014. "Pengaruh Pemberian Momentum Paada Artificial Neural Network Backpropagation." Fakultas teknik universitas muhammadiyah jakarta.

[8] Prasetyo, E. (2014). Data Mining mengola data menjadi informasi menggunakan matlab. yogyakarta: ANDI yogyakarta.
[9] Ernawati, S. (2009). Aplikasi Hopfeild Neural Network Untuk Prakiraan Cuaca. ISSN, 1411-3082.

[10] Sari, N. E., & Sukirman, .. E. (2010). Prediksi Cuaca Berbasis Logika Fuzzy Untuk Rekomendasi Penerbangan Di Bandar Udara Raja Haji Fisabilillah. Fakultas Teknologi Industri.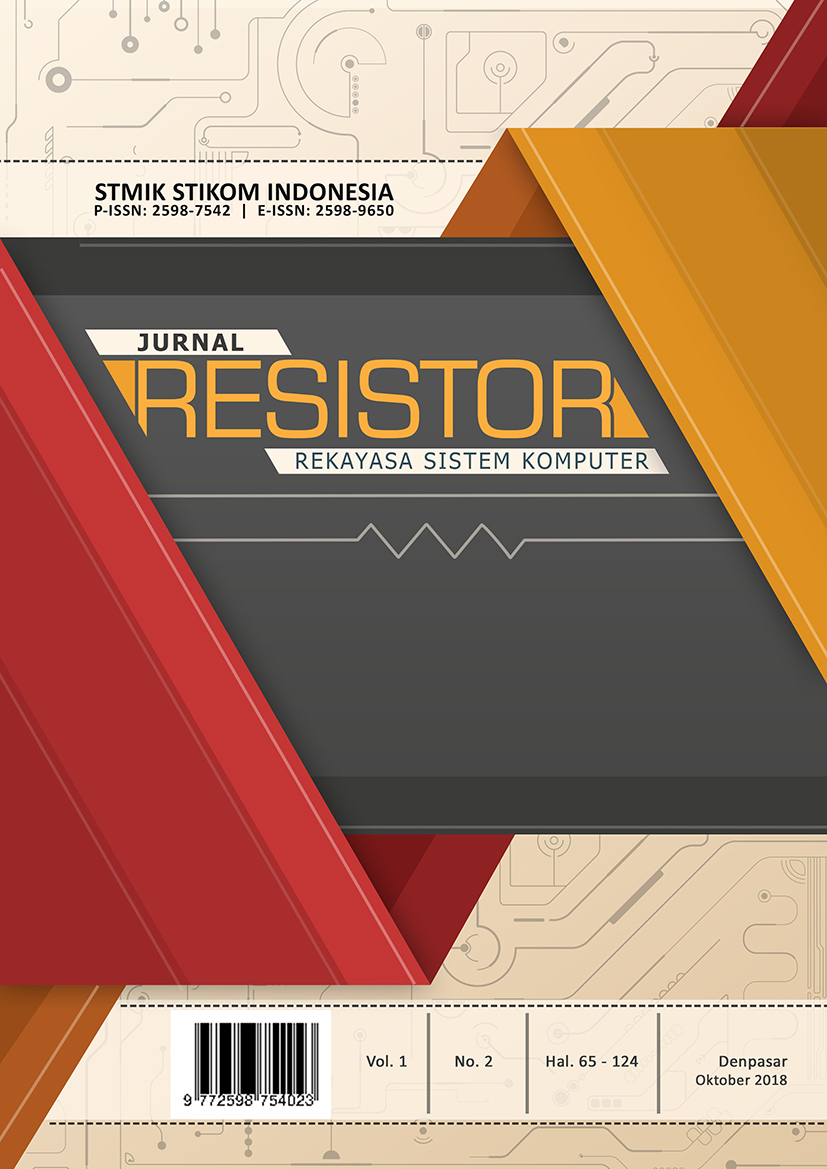 Downloads
How to Cite
Hakim, M. R. K., & Fanani, A. (2018). DETEKSI JARAK PANDANG AMAN SEBAGAI ACUAN UNTUK KESELAMATAN PENERBANGAN DENGAN MENGGUNAKAN METODE BACKPROPAGATION. Jurnal RESISTOR (Rekayasa Sistem Komputer), 1(2), 94-99. https://doi.org/10.31598/jurnalresistor.v1i2.304
License
Copyright in each article belongs to the author.
The authors admit that RESISTOR Journal as a publisher who published the first time under Attribution-NonCommercial-ShareAlike 4.0 International (CC BY-NC-SA 4.0) License.
Authors can include writing separately, regulate distribution of non-ekskulif of manuscripts that have been published in this journal into another version (eg sent to respository institution author, publication into a book, etc.), by recognizing that the manuscripts have been published for the first time in RESISTOR Journal